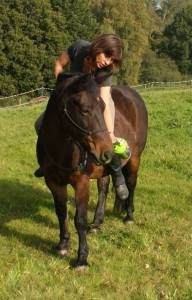 Catherine
Having had successful corporate careers, all of which were great stepping stones but not my calling, I took a leap of faith to follow my passion (against all advice) of working with holistic health and animals and I have never looked back. As a mother of 2 and 4 legged children, my passion to 'walk the talk' inspires those I work with. I love the balance between science and spirituality, and I have seen the difference that introducing such techniques as meditation, nutrition, taking responsibility for my thoughts, words and actions, being in nature and surrounding myself with inspiring people can have, and I am passionate about sharing this with others on a similar path. One of my favourite messages is from Wayne Dyer ' When You Change The Way You Look at Things the Things You look at Change'. I am loving every stage of the journey and I look forward to sharing vibrational alignment with you on our retreat.
BECKY
12 years ago dealing with bouts of depression, toxic relationships, anger issues, failing as a parent and feeling stressed, I knew there was an alternative, after looking for my alternative through others, blame, guilt and anger I responded to a leaflet that asked Did I want stillness and peace in my life. That's where my adventure of self-enquiry, meditation and connecting with the universe started. I have discovered stillness, beauty calm, breath and the present moment in my everyday life.
I am a hippy at heart working in the corporate world with 2 grown up boys and a need to share my journey and insights with others. It would be an honour to share together and Discover your Vibration on our retreat.
CATHERINE & BECKY
Having known each other for 13years we have loved sharing and supporting each other through our different journeys to find gratitude and joy in the simple things in life. Being a mirror for each other and showing each other the infinite paths to contentment. We are very different, we believe this will bring a unique dimension to discovering your authentic vibrations.