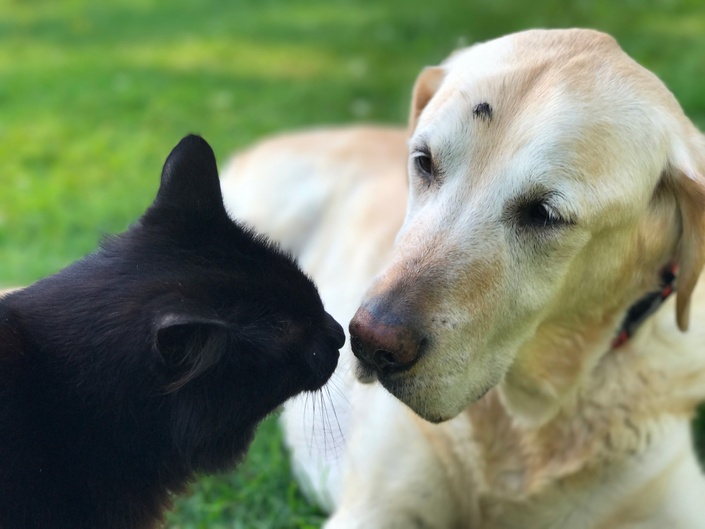 Catherine is passionate about working with owners and their animals. She offers a unique and truly holistic approach to animal wellness; assessing everything (if needed) from environment, diet, tack (horses), to social needs. A complete inside out experience. She looks forward to working with clients who embrace this all-round approach, addressing the root causes of any issues, rather than just treating symptoms. This leads to lasting results and a healthier lifestyle. It is a true partnership between the animal, owner and therapist.
What further sets Catherine apart is that she provides a detailed report of the session and all advice given, and provides the owner with further recommendations.
ZOOPHARMACOGNOSY
IN PERSON (Mini 1hr £85 Full 2hrs £170)
Applied Zoopharmacognosy is the process of enabling animals to self-medicate on natural products (including herbs and essential oils). During a consult the animal is offered the natural remedies, and they are given the time to decide which ones they need at this point in time. The animals innately know which remedies they require to bring their mind and body back into balance. Captive animals are not able to seek out the natural remedies they would find in the wild, so this process enables us to bring nature to the animal; it gives the animal control over their own healing and nutrition as they would have had in the wild. It is a very bonding experience for animal and carer. During the consult, Catherine will offer your animal a selection of the natural remedies prioritised for their physical, emotional or behavioural needs and teaches the owner how to read their animal's responses so that they can continue to work with their animal towards a sustainable healthy lifestyle change.
For an in person consult, the price includes all remedies consumed within the session.
Please note: Cats normally only require only a 1hr session. Click here for more info.
IRIDOLOGY

IN PERSON £85 per hour.
DISTANT £85 (Via Phone or Zoom)
Iridology is the science of analysing the delicate structures of the Iris (the coloured part of the eye). This ancient practice can be used as a nutritional guide and can detect a wealth of information that can assist an owner in making appropriate management decisions for their dog or cat. Through doing this, Catherine will know where to start when offering remedies for self-selection, and what remedies might be appropriate for ongoing support and a healthier lifestyle for the animal once their immediate needs have been addressed. Often owners are unable to determine the root cause of a physical or behavioural problem. Iridology, which is completely non-invasive, and involves examining the animal's eye with a torch & magnifying glass and taking high resolution photos, can often provide the missing link the information to inherited weaknesses / strengths, areas of inflammation or stress etc. to equip owners with the information to making lasting change in the health and happiness of their animal.
For an in person consult, the pictures will be taken and a physical examination undertaken. The written report will follow within one week after the photos have been magnified and examined. For distant consults, a high resolution close-up photograph of each eye must be provided via email prior to the session. Click here for more info.
RED LIGHT THERAPY (With ESSENTIAL OILS)
£45 FOR 30 MINS OR £85 FOR 1 HOUR
Catherine uses Red Light Therapy (Photonic Red Light Torches and Red Light Therapy Pads) in conjunction with essential oils, for enhanced results to restore balance in the animal. Catherine is one of only a few Level 3 qualified practitioners globally. This non-invasive and gentle yet highly effective approach can be used on acupressure points and points of injury or pain to dramatically reduce pain and accelerate healing to achieve lasting results on both chronic and acute conditions. This is an excellent 'structural' support session for your dog or cat.
Click here for more info.
ANIMAL COMMUNICATION
IN PERSON £85per hour
DISTANT £85 (Via Phone or Zoom)
Animals obviously do not speak in the same way that humans do, but they are constantly trying to communicate with us. As most humans are not able to understand an animal's attempt to communicate with them, the animal then has to employ more and more extreme methods, often ones that we humans see as 'behavioural problems' to try and make us listen! Over the ages many humans have lost their ability to communicate with animals using our feelings, however, we can re-learn this skill, and everyone has this innate ability.
A communication with your animal can help in many ways, including to uncover any missed signals for any issues your animal may have and make appropriate adjustments to yours and your animal's lifestyle to ensure more understanding and healthy communication. Catherine will tune into the animal's thoughts and feelings and relay these to the owner in human terms. This can give great insight into any physical or emotional issues. Animals are so sensitive to their humans and it can sometimes surprise owners to receive messages from their animals about themselves! This beautiful ability can lead to healing of both animal and owner, resulting in a much deeper bond.
For a distant Animal Communication, prior to the session, two photographs must be provided. One focusing straight on the face with the eyes on show and the second with the whole body. Photos must be as recent as possible, no older than one month. A list of questions can also be provided.
Click here for more info.
PAIN MANAGEMENT
Included in Iridology, Zoopharmacognosy, Mini Zoopharmacognosy, Red Light Therapy
Catherine will undertake a physical examination testing certain acupoints and trigger points to detect if your animal is in any physical pain. This is included in all her in-person consults.
MULTIPLE ANIMALS
A 10% discount will be applied for 3 or more dogs or cats being seen in the same Consult.
FOLLOW UP APPOINTMENTS
Follow up appointments are normally one hour in person, or may also be done via Zoom or a conference call if general advice is needed. Calls are £45 for 30 minutes or £85 for 1 hour.
GENERAL TELEPHONE / ZOOM CONSULTS
By Popular request Catherine is now able to offer telephone or zoom consults at pre-arranged times, to advise on your animals general health and well-being issues for those unable to have a one to one consult. During a consult Catherine can advise on any issues that you may need help with, common consults include:
· Natural products to support particular health or behavioural issues;
· Advice on how to work with self-selection with your animal, with both herbs and essential oils;
· Life style, habitat / environmental enhancement advice;
· Holistic care to include diets relevant to species and particular health needs.
Calls are £45 for 30 minutes or £85 for 1 hour.
Once our call has been paid for and you have completed the consult form we will contact you to arrange a convenient time for the consult. After a phone consult customers will receive a discount code for 10% off their first order at www.naturallyanimals.co.uk for any products they may require.
ADITIONAL INFORMATION
Please note there is a 72 hour cancelation policy – any cancellations received less than 48 hours before your appointment will be subject to full charge.
Travel costs may apply (only 50p per mile after the first 10 miles free) – please provide yard address for a quotation. If the horse needs extra time for the consult this will be discussed with the owner at the time and additional charges will be made pro-rata at £85/hour
If having the Zoopharmacognosy or red light consult it is recommended that you do not ride or exercise your horse for the rest of the day after the session.
PLEASE NOTE I DO NOT CARRY HERBAL PRODUCTS WITH ME BUT EVERY CLIENT IS GIVEN A DISCOUNT CODE TO USE AT WWW.NATURALLYANIMALS.CO.UK WHICH ENTITLES THEM TO 10% OFF THEIR FIRST ORDER AFTER A CONSULT. IF YOU ARE AWARE OF ANY PRODUCTS YOU WOULD LIKE ME TO BRING TO THE CONSULT PLEASE LET ME KNOW IN ADVANCE.
My name is Catherine Edwards.
I have a BSc in Biology, specialising in Animal Behaviour and Physiology, and an MBA.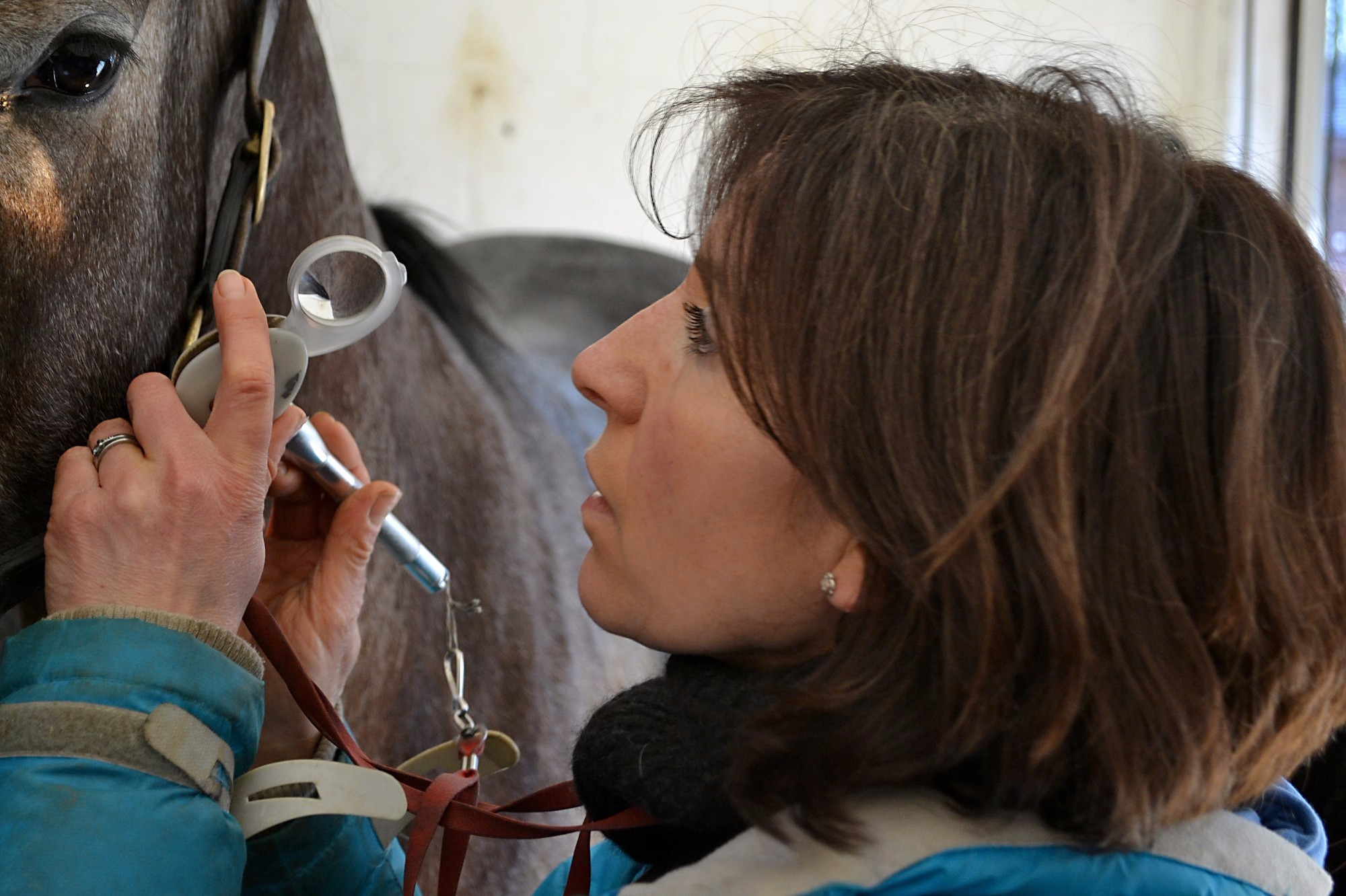 I also have professional qualifications as follows:
· Diploma Equine Iridology
· Diploma Applied Zoopharmacognosy (all species)
· Red Light Therapy Level 3 Practitioner
· ACT 2 Animal Communicator
· CHEK Holistic Lifestyle Coach Level 1
My real passion has always been animals, and I have owned my own horse(s), cats, dogs and guinea pigs for over 30 years. I have a keen interest in natural horsemanship and apply a holistic approach when working with horses, using a combination of Equine Iridology, Herbal Remedies, Zoopharmacognosy, Red Light Therapy, Animal Communication and a detailed knowledge of Equine Behaviour and Nutrition.
Having qualified as an Equine Iridologist with the world renowned Ellen Collinson I have built up an extensive knowledge in this area. I am continuing my professional development in this area through ongoing research, case study review with qualified peers and attending relevant courses as appropriate.
I work with a network of therapists, equine practitioners and vets and I am excited to share this journey with you.
Catherine Edwards - MBA, MSc (hons) Biology, Dip. Equine Iridology; Dip. Applied Zoopharmacognosy; Level 3 Red Light Therapy, CT2 Animal Communication