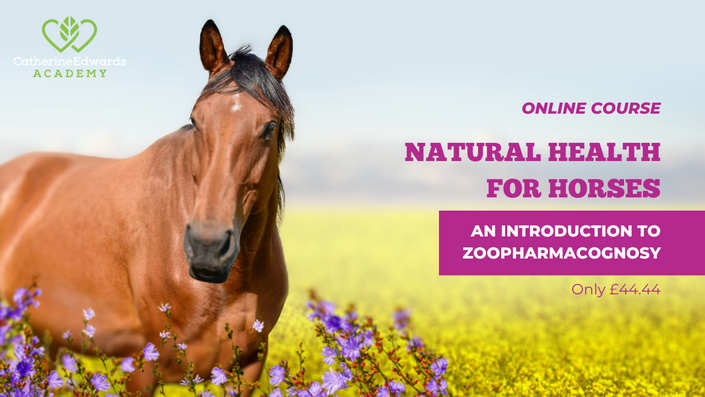 Natural Health for Horses - Introduction to Zoopharmacognosy - Online Course MASSIVE SUMMER SALE PRICE REDUCTION
Learn how to offer natural remedies and essential oils to your horse via self-selection MASSIVE SUMMER SALE PRICE REDUCTION

Do you love your horse?
We certainly love horses, and when we saw how massively they improved from being able to self-select natural remedies & essential oils, we decided to do everything we can to get this precious knowledge out to as many people as possible. This is why we started to film our courses and turn them into online courses - accessible from everywhere at any time!
Horses can massively benefit from working with essential oils & natural remedies, when the owner / caretaker knows how to offer them.
From anxiety, stress and spookiness to arthritis, all sorts of pain or digestive issues, EVERY horse can benefit from what you learn in this course!
Who is this Course for?

- All horse owners - learn how to keep your horse emotionally and physically in balance
- People who work with horses / Rescue Centers / Yard Owners or Managers / Grooms - this can be the missing link to resolving behavioural & physical problems in a non-invasive & safe manner
- Existing therapists wanting to add an extra dimension to their services
Includes:
- 2 hours of demo videos - showing how to work with essential oils and herbs with your horse
- over 3.3 hours of detailed presentation videos & talk through
- Interactive demos with demo horses
- PDF Booklet of course notes to download for easy reference
- Lifelong access - no time limit for completing course
Applied Zoopharmacognosy is the process of enabling animals to self-medicate on natural products (including herbs and essential oils).

Animals innately know which remedies they require to bring their mind and body back into balance. Captive animals are not able to seek out the natural remedies they would find in the wild, so this process enables us to bring nature to the animal; it gives the animal control over their own healing and nutrition as they would have had in the wild. It is a very bonding experience for animal and carer. During this course, Catherine offers a selection of the natural remedies for their physical, emotional or behavioural needs and teaches the owner how to read their animal's responses so that they can continue to work with their animal towards a sustainable healthy lifestyle change.
You'll learn how to give your horse a choice to select natural remedies and you'll be able to watch a demo horse doing a self-selection. You'll see the horses reactions and learn how to read the responses of your own horse, while learning about the main remedies to offer at home.
Your Instructor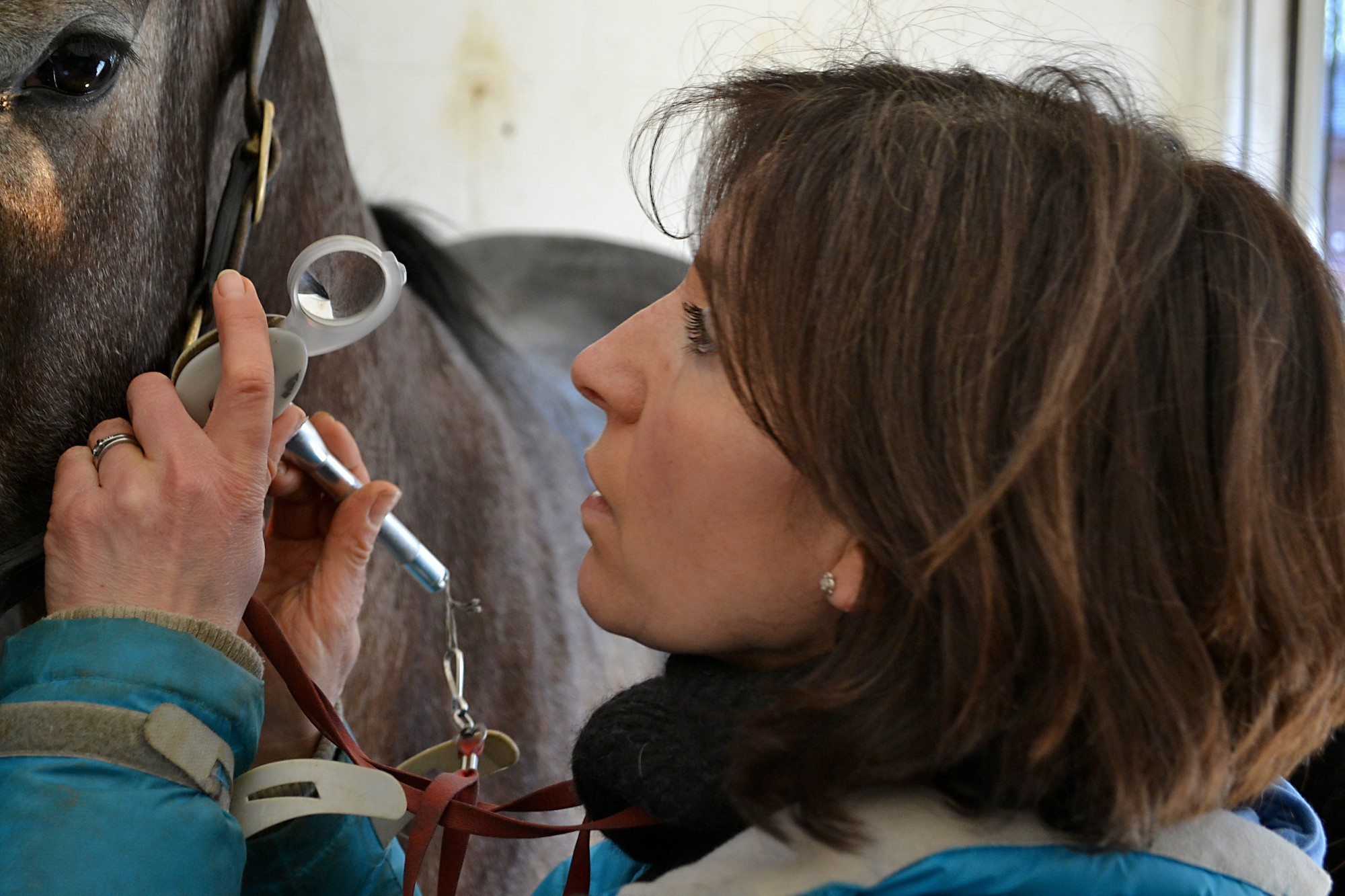 My name is Catherine Edwards. I have a BSc in Biology, specialising in Animal Behaviour and Physiology, and an MBA. I also have professional qualifications as follows:
· Diploma Equine Iridology
· Diploma Applied Zoopharmacognosy (all species)
· Red Light Therapy Level 3 Practitioner
· ACT 2 Animal Communicator
· CHEK Holistic Lifestyle Coach Level 1
My real passion has always been animals, and I have owned my own horse(s), cats, dogs and guinea pigs for over 30 years. I have a keen interest in natural horsemanship and apply a holistic approach when working with horses, using a combination of Equine Iridology, Herbal Remedies, Zoopharmacognosy, Red Light Therapy, Animal Communication and a detailed knowledge of Equine Behaviour and Nutrition.
Having qualified as an Equine Iridologist with the world renowned Ellen Collinson I have built up an extensive knowledge in this area. I am continuing my professional development in this area through ongoing research, case study review with qualified peers and attending relevant courses as appropriate.
I work with a network of therapists, equine practitioners and vets and I am excited to share this journey with you.
Course Curriculum
PDF Manual - Natural Health for Horses - Introduction to Zoopharmacognosy - Online Course
Available in days
days after you enrol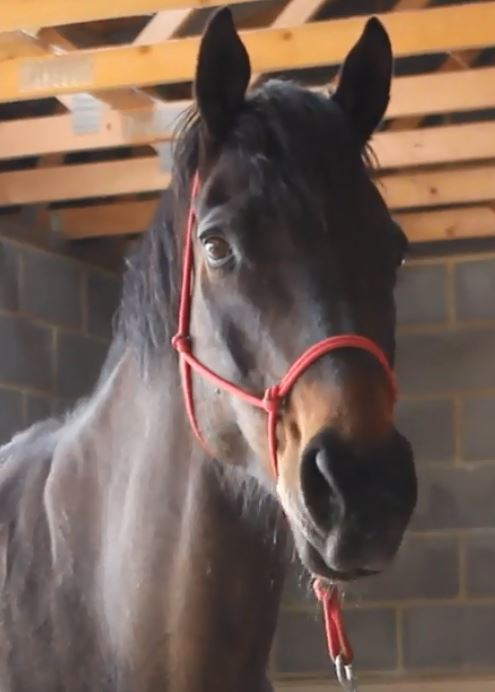 "I have just completed two of Catherine Edwards workshops, zoopharmacognacy and first aid. Thank you for your wonderful courses, it was just fantastic and inspiring. I am just amazed by the amount of information Catherine knows and freely gives to you. She is a person who likes to share ideas and knowledge and has the groups attention. There is a practical in the afternoon where we all can participate if we want too. It gives you an understanding of what your animal is showing you. I would highly recommend both courses as they empower you to help, calm and relax your animal when needed."
- Julie Henley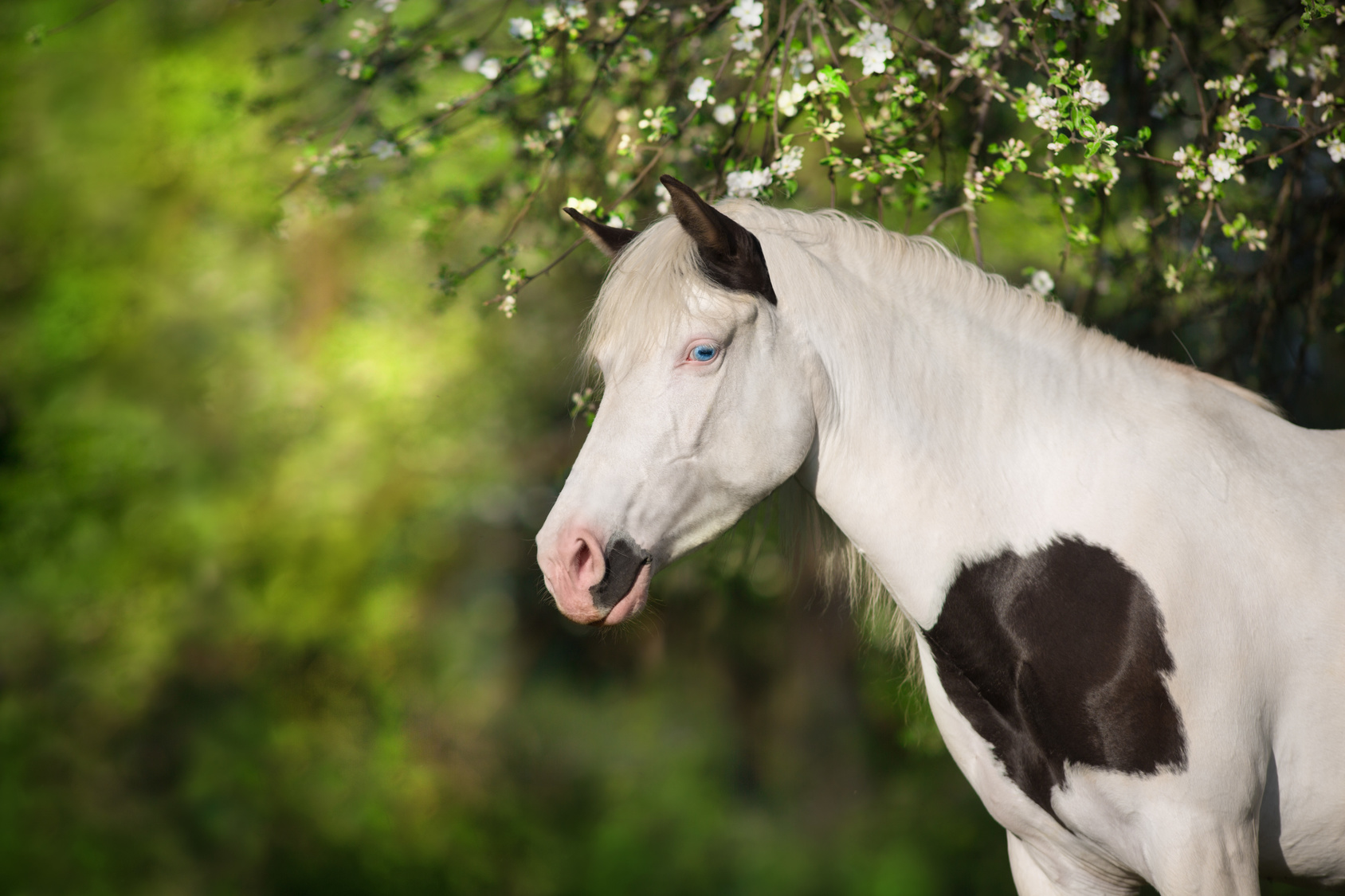 "Thank you for this amazing course! I finally feel confident to offer the herbs & essential to my horse and understand his reactions. I can't thank you enough!"
- Sarah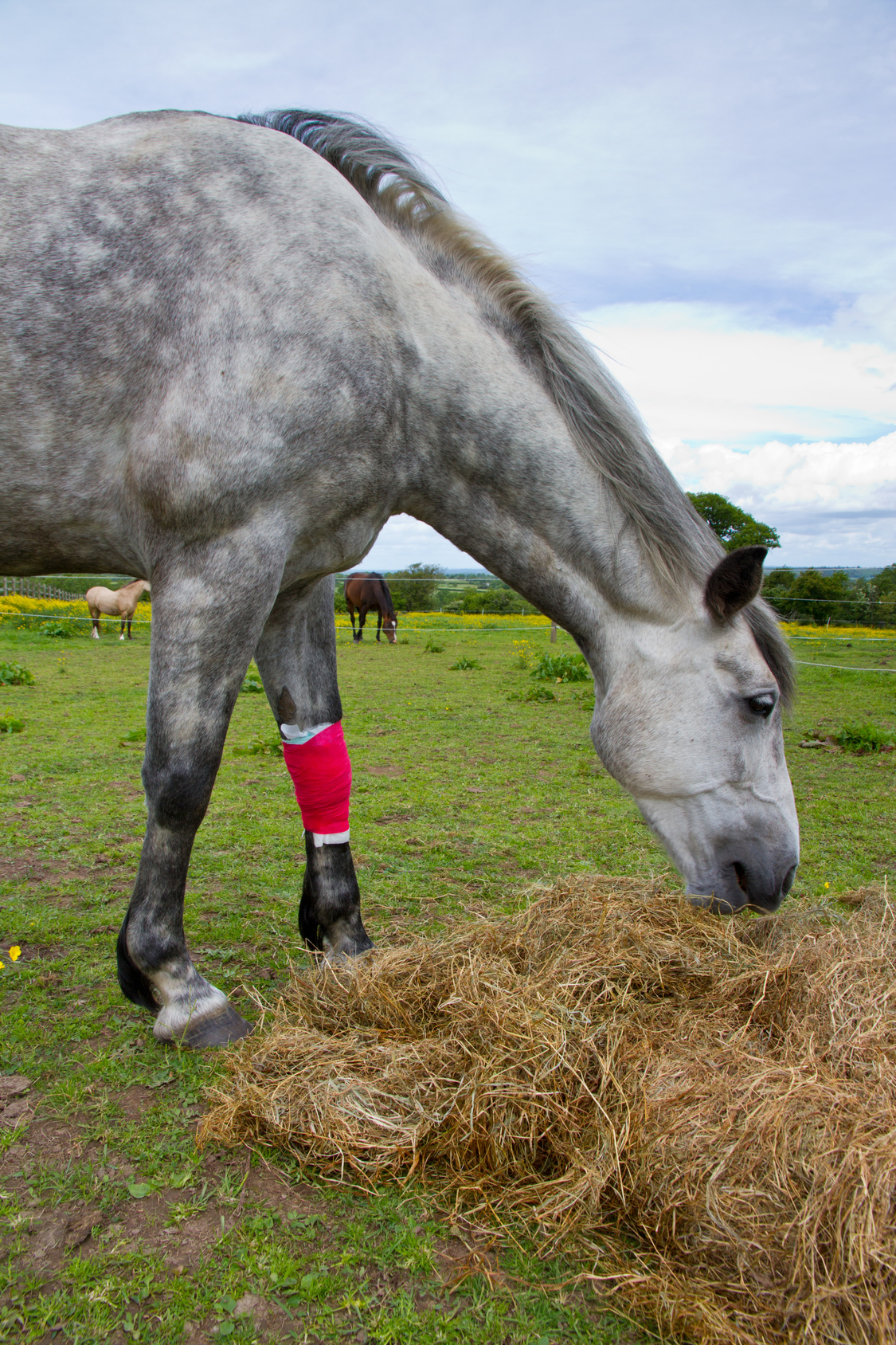 "I really enjoyed this course and looking forward to extend my knowledge that is so very good for our animals. I certainly will have more courses in the near future. I can't thank Catherine enough to introduce me to this. I already had very good results when I phoned Catherine with a problem with one of our horses. My husband and myself can't thank Catherine enough to help us to find our lost cat Asha. She was hiding and she came home to us later in the evening when it was quite outside just like Catherine told us. I can recommend this 1 day course to anyone who will give the animals the choice to heal themselves as they know best what is good for them."
- Jacqueline Hallam, Norfolk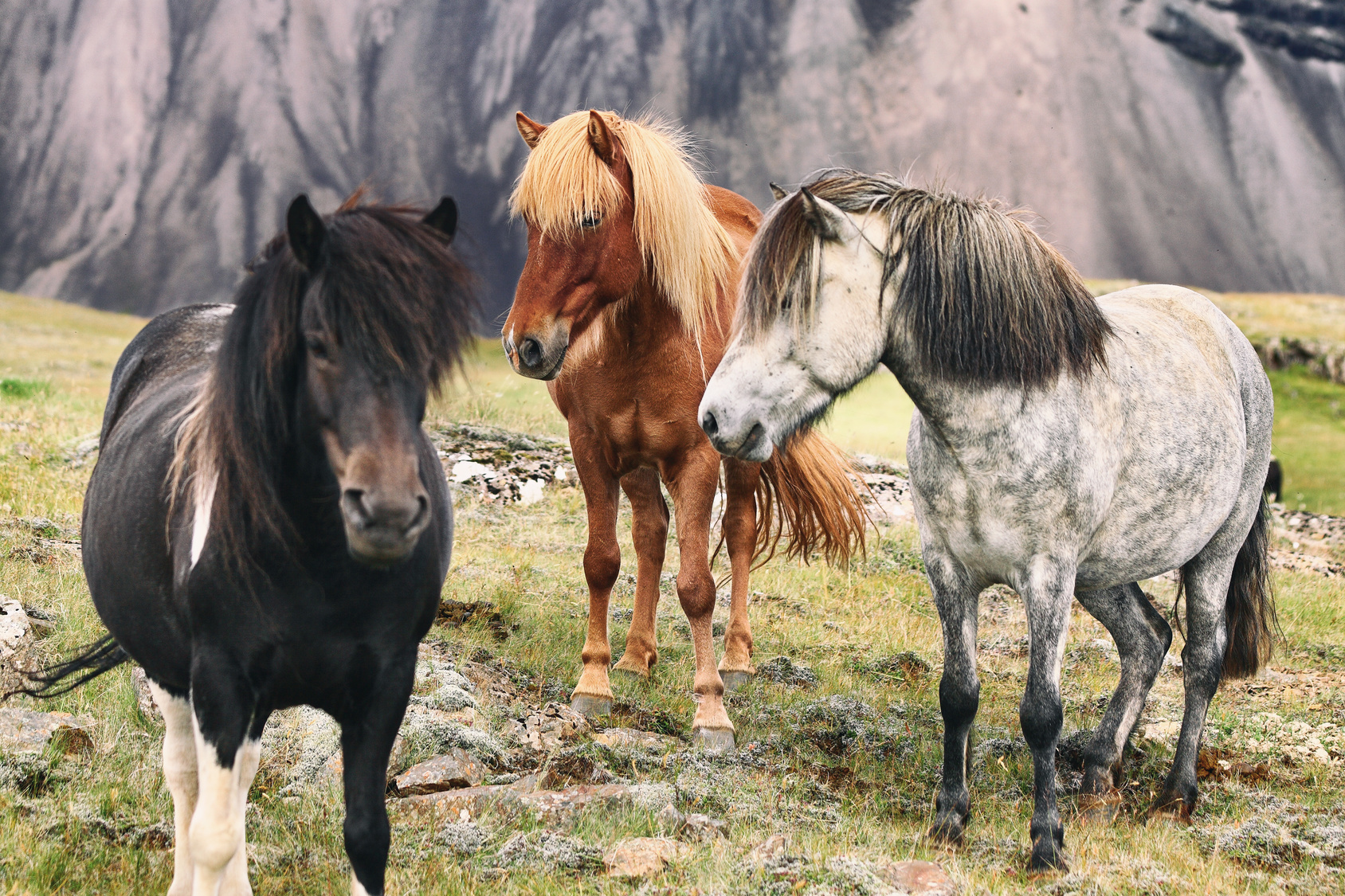 "Having worked with self-selection myself this course has given me so much extra information to help me make the right decisions for my horses and me! I love the practical demos and the theory presentations are really thorough, and I have already made changes to how I look after my horses. They have never been happier or healthier! Thank you so much! I can't wait to do the dog one next!"
- Mary, Cambridgeshire