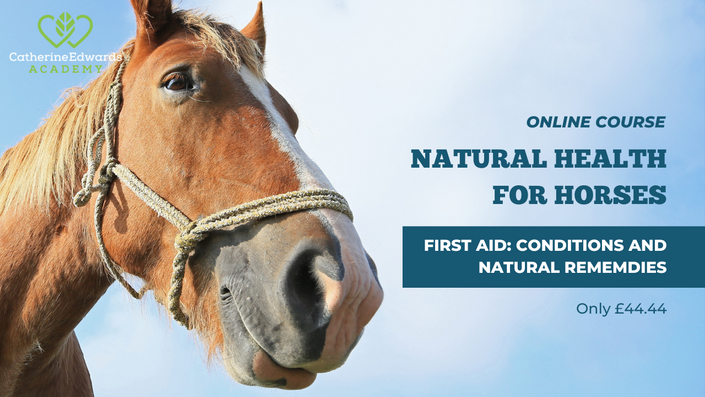 Natural Health for Horses - First Aid - Conditions & Natural Remedies - Online Course MASSIVE SUMMER SALE PRICE REDUCTION
Learn how to make natural remedies and help your horse to stay healthy MASSIVE SUMMER SALE PRICE REDUCTION
For every horse owner, having a sick or injured horse is a nightmare.

Catherine has a wealth of knowledge about how to deal with injuries & diseases and which natural remedy helps when. In this course you can learn from her what to do if your horse is sick or injured, how to use Zoopharmacognosy to enable your horse to choose the remedies it actually needs and what you can do to prevent diseases and injuries.


Who is this Course for?
- All horse owners - learn how to keep your horse naturally healthy
- People who work with horses / Rescue Centers / Yard Owners or Managers / Grooms
- Existing therapists wanting to add an extra dimension to their services
- NB all of the remedies you will have formulas and instructions on how to make can be used for yourself and all animals EXCEPT CATS (do not apply essential oils topically to cats)
Includes:
- over 3 hours of engaging videos, presentations & talk throughs
- Interactive demos shownig how to make the remedies
- PDF Course Booklet download for easy reference
This fun workshop (classroom-based) will take self-selection to the next level, teaching you so much useful information on how to use all your natural remedies for common first aid / horse conditions (also applicable to other animals and yourself). You will learn how to make your own remedies and how to use them safely on your horses and for you (the information is equally applicable to other animals)!
The workshop is for all horse / animal owners and will cover:
• What to do whilst waiting for the vet;
• Empowering owners to manage routine first aid conditions for horses using essential oils, herbs and natural remedies;
• What to have in your first aid box & how to use it;
• How to make natural gels, ointments, poultices etc;
• How to prevent common problems occurring;
• Environmental enhancement;
• Link between physical and emotional health.
This workshop will teach you how to keep your horse healthy naturally, so you can save on future vet bills and lower the cost of keeping a horse!
Self-selection is a fantastic way for every horse owner to help keep their horse emotionally & physically well. This Natural First Aid Workshop really compliments the Introduction to Zoopharmacognosy Workshop.
This amazing, fun and easy to learn technique is a must for all horse owners, whether you have a top competition horse, a happy hacker, retired or anything in-between! You will be blown away by how bonding it is for you and your horse and I promise you horses will love you even more! Most people don't realise how much introducing a bit of choice into your horses life can relive so much stress for you and your horse so don't delay start today and you will never look back!
Zoopharmacognosy refers to the process by which animals self-medicate and naturally forage plants and their essential oils, algae, clay and other natural remedies.
In this Course we look at emergencies and typical conditions you may encounter when working with or owning horses.

First Aid Emergencies: what to do whilst waiting for the vet, minor first aid, reoccurring or chronic conditions.

We look at how to prevent or minimize chances of problems occurring in the first place, and how to use natural remedies either on their own or to support conventional treatments.


Topics we talk about in the Course / are covered in the PDF manual:
- Legal Aspects of Animal Treatment in the UK
- Levels of Emergencies
- Prevention of diseases
- Equine Vital Signs
- Zoopharmacognosy
- Types of Natural Remedies
- Emergency Kits
- Safety
- Calming Remedies
- Emergency conditions such as Shock, Hyper- or Hypothermia, Raised Temperature, Infection, Wounds, Burns, Fractures, Sprains, Poisoning, Cunvulsions, Colic, Laminitis
- Other conditions: Foot Abscesses, Swellings, Parasites, Insect Bites, Inflammation, Arthritis, Sweet Itch, Ulcers, Diarrhoea, Tumours & Sarcoids, Respiratory Issues, Digestive Issues, Kidney, Liver & Immune Support, Box Rest, Dying
- The most common natural ingredients in our remedies
- How to make your own remedies
Your Instructor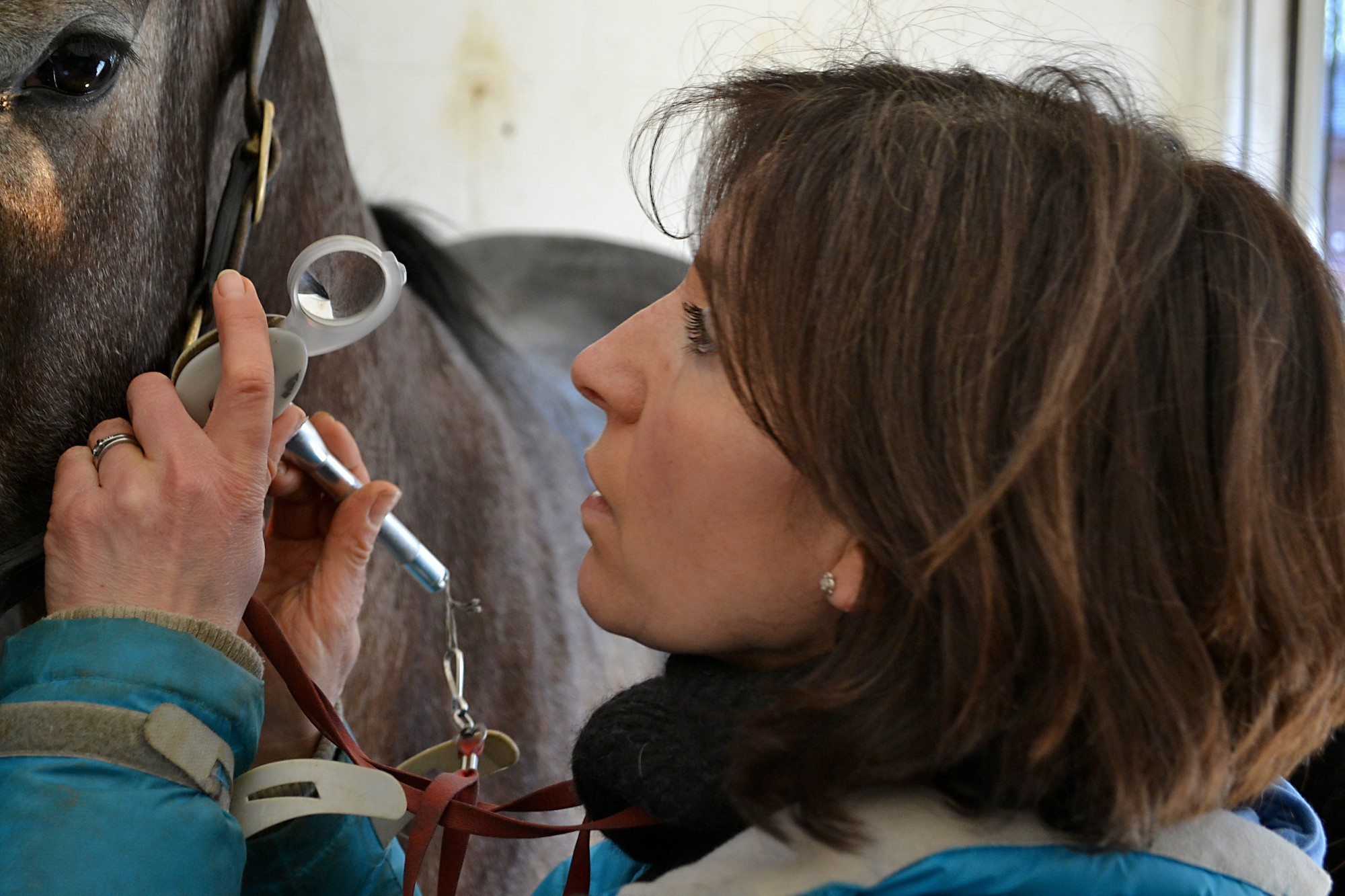 My name is Catherine Edwards. I have a BSc in Biology, specialising in Animal Behaviour and Physiology, and an MBA. I also have professional qualifications as follows:
· Diploma Equine Iridology
· Diploma Applied Zoopharmacognosy (all species)
· Red Light Therapy Level 3 Practitioner
· ACT 2 Animal Communicator
· CHEK Holistic Lifestyle Coach Level 1
My real passion has always been animals, and I have owned my own horse(s), cats, dogs and guinea pigs for over 30 years. I have a keen interest in natural horsemanship and apply a holistic approach when working with horses, using a combination of Equine Iridology, Herbal Remedies, Zoopharmacognosy, Red Light Therapy, Animal Communication and a detailed knowledge of Equine Behaviour and Nutrition.
Having qualified as an Equine Iridologist with the world renowned Ellen Collinson I have built up an extensive knowledge in this area. I am continuing my professional development in this area through ongoing research, case study review with qualified peers and attending relevant courses as appropriate.
I work with a network of therapists, equine practitioners and vets and I am excited to share this journey with you.
Course Curriculum
PDF Manual - Natural Health Care & First Aid For Horses
Available in days
days after you enrol
Section 3: Practical Demonstrations Making Remedies
Available in days
days after you enrol