Equine Iridology Diploma Course
Is your Calling Working with Horses?
Would you like to understand the link between the symptoms a horse shows and the root cause of the issue?
Would you like to be able to advise the most effect ways to re balance each horse naturally using holistic therapies that will stop the problem coming back?
You've come to the right place.
Who is this Course for?
- anybody who wants to work with horses, whether you're just starting your career, looking to change your career or just following your true calling in your free time;
- any existing Therapist, Vet Nurse or Vet who wants to add a new exciting facet to their work with horses;
- any existing Iridologist who would like to extend their practice to working with horses;
- any Horse Owner, Yard Owner or Manager, Trainer, Farrier, Podiatrist or Groom who wants to learn and understand the frustrating hidden causes of problems that make horses ill, unhappy, show behavioural issues or lack performance.
I am delighted to be able to offer a Diploma in Equine Iridology. My course syllabus has been approved by Balen's Insurance, and all U.K. students are able to get professional insurance cover, both as a student and as a Practitioner on completion of this course. This course is open to students globally. It should be noted at this time there are no Accreditation, Governing or Licencing Bodies covering Equine Iridology.
I am the founder of the Catherine Edwards Academy, and of www.naturallyanimals.co.uk and I will be your course Tutor for the Equine Iridology Diploma. I am delighted that you have decided to take this journey into the wonderful world of Iridology, which will give you an even deeper understanding and connection with the horses that you work with.
Having studied with the world renowned Equine Iridologist Ellen Collinson, I have many years' experience working as an
Equine Iridologist, and continue to study this amazing discipline. My professional qualifications can be seen in my Instructor Profile.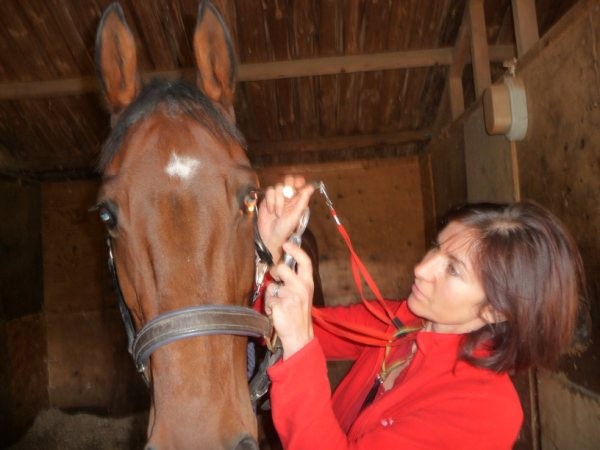 This is an extremely comprehensive course, and covers all that is needed to ensure that on completion you will be an excellent Equine Iridologist. The course consists of;
12 Modules – in PDF and video format to enhance understanding
6 Assignments – to be submitted electronically
10 Case studies – to be submitted electronically
Practical Assessment Day – to be attended in person or assessed via Video submission for overseas students.
This course is suitable for anyone wanting to become an Equine Iridology Practitioner.
They say that The Eyes are the Windows to the Soul, and you are about to discover how true this is. I look forward to sharing this journey with you.
Catherine Edwards 2017
---
Course Duration: Maximum of 2 years from commencement

Insurance: All students will be required to take out student insurance (available through Balan's or your own Insurance provider). The Catherine Edwards Academy has approved insurance for all students via Balen's, however students are required to arrange and pay for this themselves. Quotes avilable.
Pre-Requisites:

Anatomy & Physiology: overview anatomy & physiology training is included to ensure all students are competent to perform an accurate iridology assessment and understand the implications of the results. This is included in Modules 3, 5, 6, 7a, 7b, 8 & 9. This course does NOT give a separate A & P Qualification.
No previous qualifications are required.
Additional Benefits:

On Qualification UK students will qualify for discounts and commission on all herbal products currently sold through Naturally Animals. This will provide an additional revenue stream. To be arranged separately on completion of Diploma. Terms & Conditions will apply.
Templates for consult forms and Iridology Grid provided.
Discount on any further courses studied with Catherine Edwards Academy.
Ongoing support from Catherine Edwards for the duration of the course.
Equipment Requirements – full details specified in Module 2, but budget overview:
Handheld adjustable torch & magnifying glass – allow £25.00
Digital SLR camera and macro-lens – allow £350.00 - £700.00 depending on whether you can obtain second hand. NB some phones may now have a sufficient camera. This will be up to the individual to determine but I will advise.
Reference Books – will depend on previous knowledge & experience.
Please click here to download course curriculum.

Please contact us at:
Email - [email protected]uk
Phone - +44(0)1483 608322, +44(0)7796 170455